Virtual exhibitions offered educators a lifeline during the pandemic. Universities, art schools, high schools and primary schools moved online, which meant they could continue to show their students' work.
But exhibiting online creates its own set of issues.
2D or not 2D?
The critical challenge was to do justice to the work in an online format. One option was to set up a 2D gallery page of same-sized images and slide shows.
This had the advantage of being reasonably easy to set up. However, it didn't come close to replicating the exhibition experience, where visitors are surrounded by a thoughtfully curated collection of artworks.
Instead of approaching the works and viewing them from a range of angles – with the ability to be drawn into a closer encounter – viewers were presented with a succession of flat images.
A webpage or a slide show is not an exhibition. Students, who may have put hundreds of hours into their work, deserve something better.
Pseudo 3D to the Rescue
In an attempt to create a more realistic exhibition experience, some organisations turned to Google Earth. This stitches together photos taken with a 3D camera and inserts them into a virtual space.
The issue here is the sheer amount of work involved. The educator first had to hang the actual show – which might not be possible under pandemic restrictions. Then they had to engage a photographer with the right gear to scan the entire show. And they still had to put the exhibition together on a computer.
Laborious and costly, this was not a viable option for many educators.
With a true 3D exhibition, viewers become visitors
The best way to replicate the exhibition experience online is to set up a 3D gallery.
In a 3D space, visitors can explore exhibitions and compare artworks at their actual size, from any distance or angle, while moving freely around the exhibition. Viewers become visitors because they feel they're actually somewhere.
Curating an Exhibbit 3D gallery is quick and intuitive. Curators have a wide range of different-sized spaces to choose from. The tools provided enable educators to collaboratively curate exhibitions along with their students. And they can do it all remotely.
The gallery exhibition could then be integrated with the organisation's website. Using the other tools provided with Exhibbit, educators were able to share exhibitions by posting on social media and inviting people via email. 
With their obvious collective and contextual benefits, easy access on computers and mobiles phones, 3D galleries quickly became the solution of choice for many.
On behalf of Clarion University of Pennsylvania's Art Dept. I would like to thank your company for making it possible for our graduating BFA art majors to have virtual solo exhibits, and our yearly BFA Senior Juried Art Exhibit. All of our students and friends are very impressed with the sophisticated quality of Exhibbit. I also loved how simple it was to work with the program.
Clarion University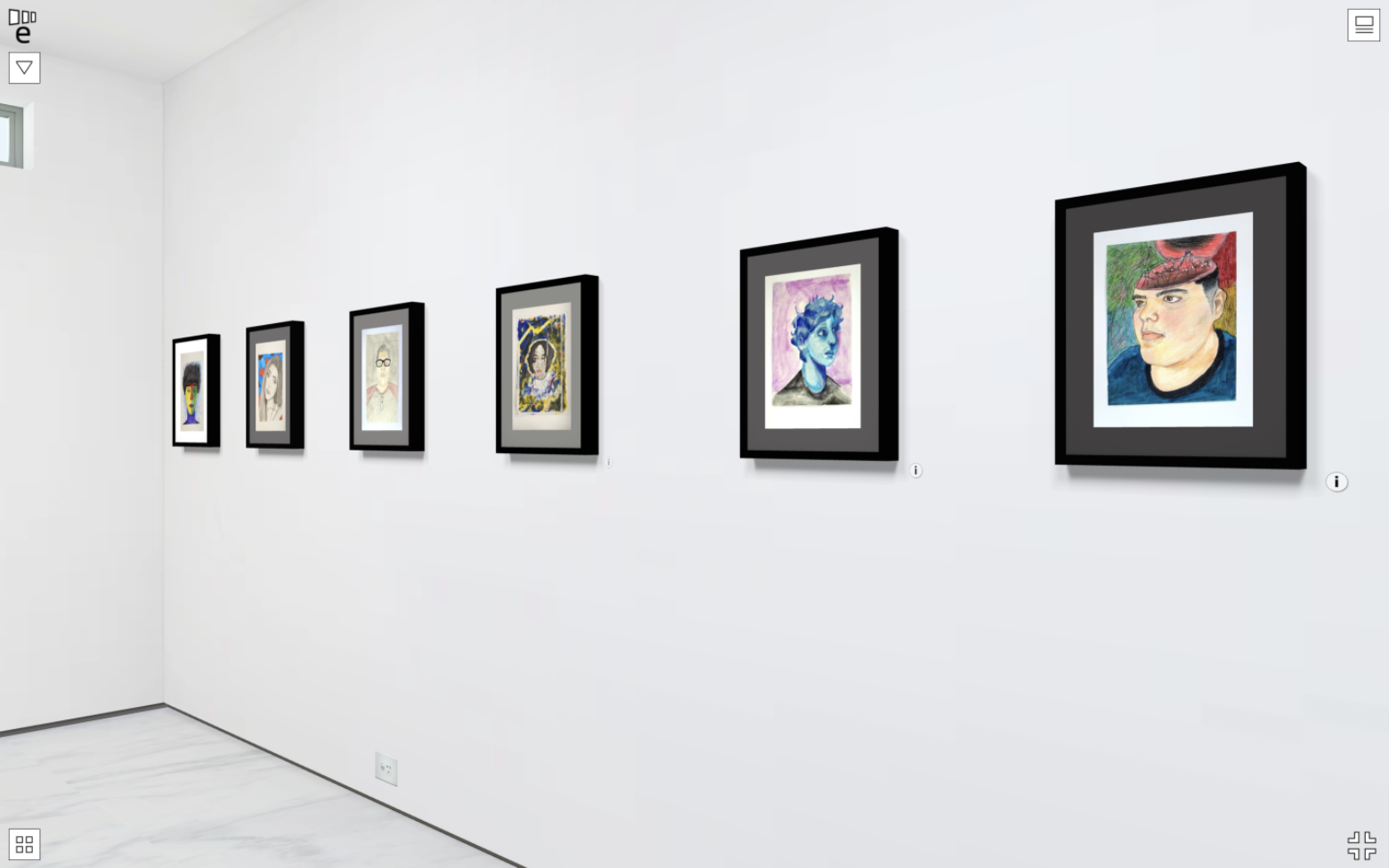 One account, many galleries
Exhibbit's 3D solution also offered a very important advantage to time-poor administrators and educators: simplicity.
Organisations could set up a single account with the number of galleries they required. They could then assign these galleries to individuals, groups of students, and/or other educators. 
Administrators had access to all the galleries and could preview any of the students' exhibitions. They also received each gallery's published exhibition links. 
Each student was only able to see their own gallery and it's exhibitions. The perfect balance of simplicity and practicality.
Back to reality?
As Covid restrictions ease or disappear, some educators are moving back to real-world exhibitions again.
Some – but not all.
Many educators have been so impressed with the experience, image quality and ease of curation that they are continuing to use their 3D galleries to augment and extend the duration of their shows. And to give their students first hand curation experience without the expense and time it takes to hang a real show.
The ability to integrate the 3D exhibition experience within the organisation's website extends the reach of the physical show. It is also a wonderful tool for designing and experimenting, with the ability to set up shows well before the actual opening. This allows multiple exhibition concepts to be trialled and viewed by all involved.
The visceral experience of moving through an Exhibbit 3D gallery far exceeds that of a 2D web gallery page.
There is just no comparison.