Buyers like to know the dimensions of the artwork they're viewing online. Is it small and jewel-like or will it dominate the living room wall?
2D galleries generally lack the context and richness to convey this information. You need a different approach.
Size matters, which is why you need a 3D gallery
A 3D virtual gallery creates a much more naturalistic viewing experience. It's on a screen – but it feels like a room. There are intuitive, visual cues in the gallery's dimensions, furniture and windows.
Precise information is provided via the buttons next to each artwork. The dimensions are easy to review, either on the wall next to artwork or in the dropdown panel. You don't have to memorise anything. And you won't have to do that difficult size translation, because it's with you, on your phone, tablet, laptop or desktop.
Exhibbit's 3D gallery software also makes it easy for you to share the experience, and thus get input from others whose opinions you value. It could be a partner or group who are involved in considering the purchase. With a few clicks, you can share a particular artwork, along with the entire exhibition, and add a personal message.
When the shared post is received and the gallery is opened in a new browser, the guest will be transported across the gallery and placed in front of the shared artwork, where they can study the information.
After viewing that artwork, they'll move around the rest of the exhibition and put the work in context, find out more about the artist or artists, and form a considered opinion.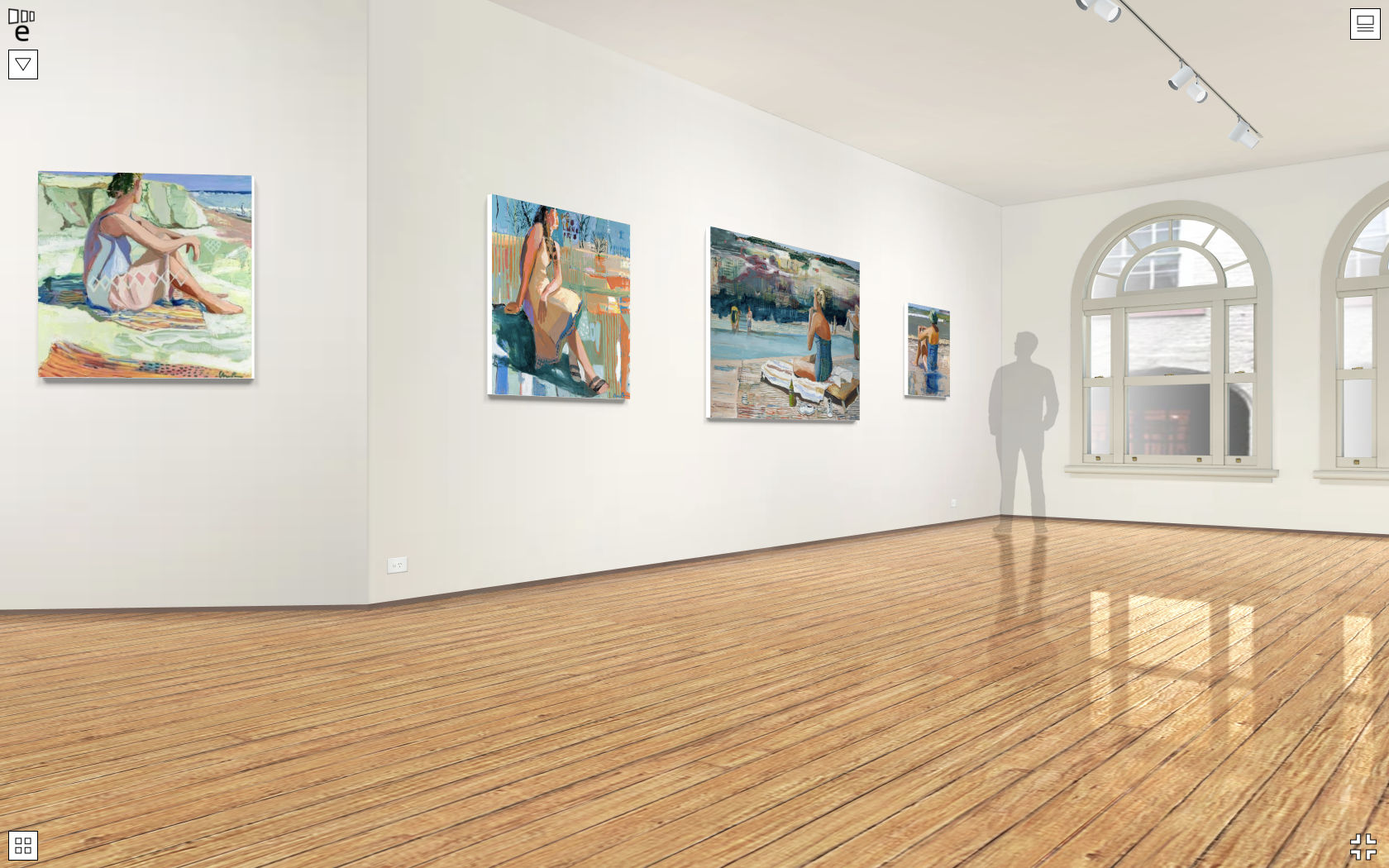 An entire exhibition to review
There is great value in being able to compare all the artworks in an exhibition with your selected favourite, and in a realistic art gallery setting.
You can take in several artworks at once as they surround you on the gallery walls. Some are closer than others and you can view them at different angles. You're able to take in the exhibition as the curator intended.
Let's walk through a typical Exhibbit viewing experience…
An artwork has attracted your attention. As you pass it, you notice another small grouping of works and make a mental note to come back and check them out.
Now you are there, it's just you and the artwork. You move closer to take in the intricate fine line work, then step back to consider how it might look in your own surroundings. You already have a feel for how big it is because you are viewing it in a 3D room. The buttons next to the artwork offer you several options. You can watch a video about the artist, make an inquiry or buy directly, all from inside the 3D gallery.
You have just had an art gallery experience on your laptop, phone or tablet, which is very different to viewing 2D images on a webpage, where artworks large and small may all be presented at the same size.
This is one of the reasons we built Exhibbit. As artists and gallerists, we wanted to use 3D software technology to put viewers inside the gallery, where they can experience exhibitions at real-world scale.
Realism makes the experience richer and real-world dimensions are much more easily conveyed when you hang your exhibition in a 3D gallery.