Imagine being able to place paragraphs of text directly on your virtual gallery's walls. Ponder the possibilities of Decals that can be used to add graphics or display artworks with semi-transparent areas. These are just a few of the capabilities we've recently added to Exhibbit.
As always, the goal is to expand the range of possibilities for creating your own, uniquely compelling exhibition environment. Read on to discover some subtle as well as dramatic ways to achieve this.
Text to accompany your artworks
Art is about the image, but words can add a lot to the viewer's experience. Now you can satisfy their curiosity and deepen their engagement with our new Text feature. If you wish to include an abstract or an editorial introduction to your exhibition, text can now be custom-created and placed on the walls.
This new feature contains a range of font styles, in regular, bold or italic. Character sizes range from paragraph-sized text that allow you to place your complete abstract in the wall, no matter how big it is, to letters almost as high as the gallery wall itself. With these tools, you can create a block of text in one colour for the title, and a separate text block in another for the abstract.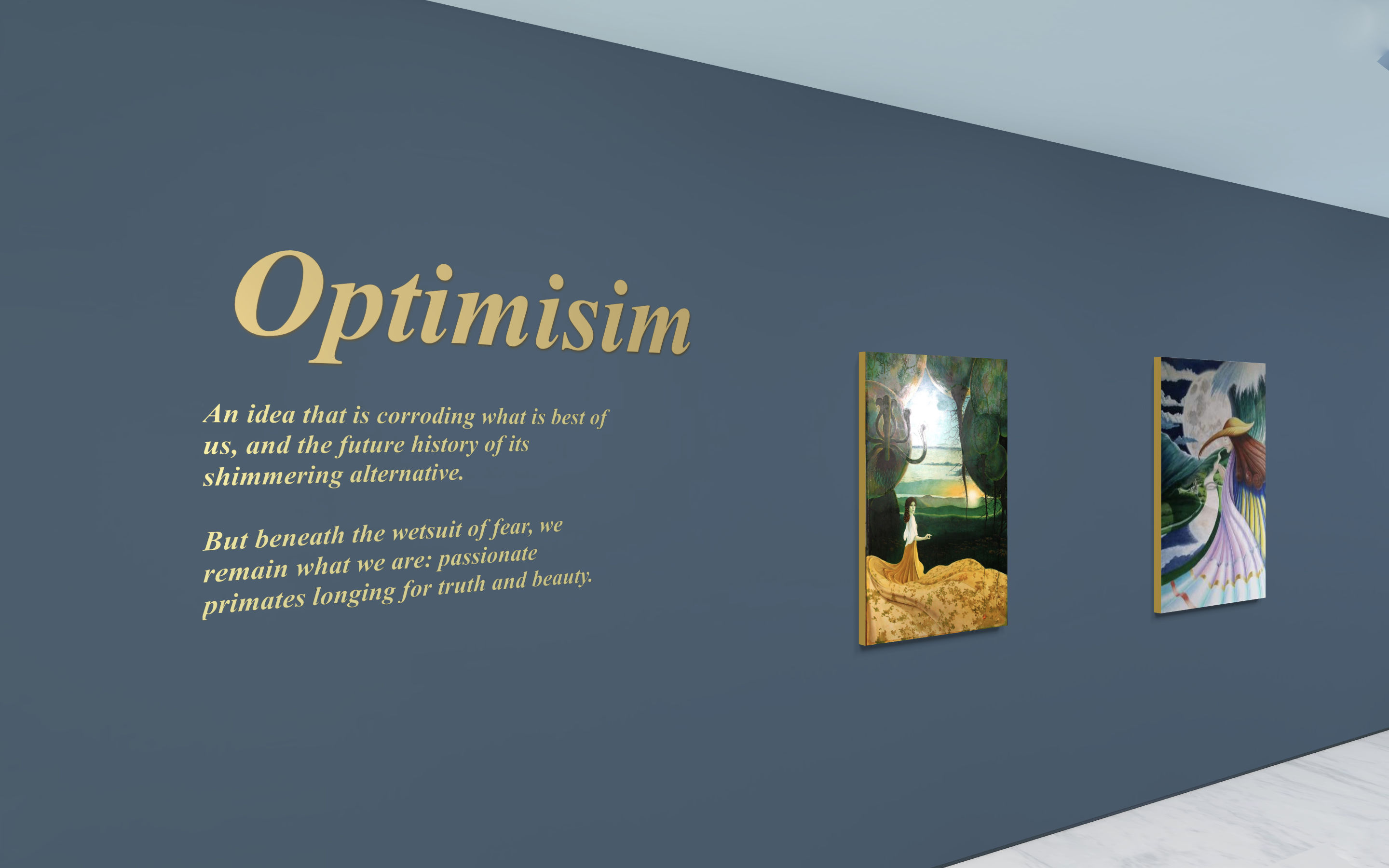 Decals
Another new addition to your toolset is Decals. These are .png images with transparency.
You can opt for a decal to be either a graphic or an artwork. Both can be applied directly to any wall. They can even be layered, opening up endless possibilities.
Decal as an Artwork
Decal as an Artwork allows you to upload an image of any size or shape and display it on an unmounted canvas. This could be used to display an artwork created on paper that contains ragged or uneven edges, or an image that has semi-transparent areas, through which the wall will show.
Decal as a Graphic
Cusomise the gallery environment by adding graphic elements that resonate with your exhibition. You can select to treat a decal as a graphic, one that can be scaled and positioned on any wall as the example below shows.
Decals can also be used for displaying text. For instance, your logo can be placed on the wall as a graphic decal. Any graphic that has a special font style that is not in our selection, can be displayed as a graphic decal in this way.
The power of Layers and Levels
You can now combine multiple text panels, graphic elements and artworks. Exhibbit gives you up to four layers that enable you to place groupings of elements and artworks on the wall. This is particularly useful when you want to place an artwork or text over a wall decal graphic and not have them interfere with each other. Try it out after viewing a quick tutorial here.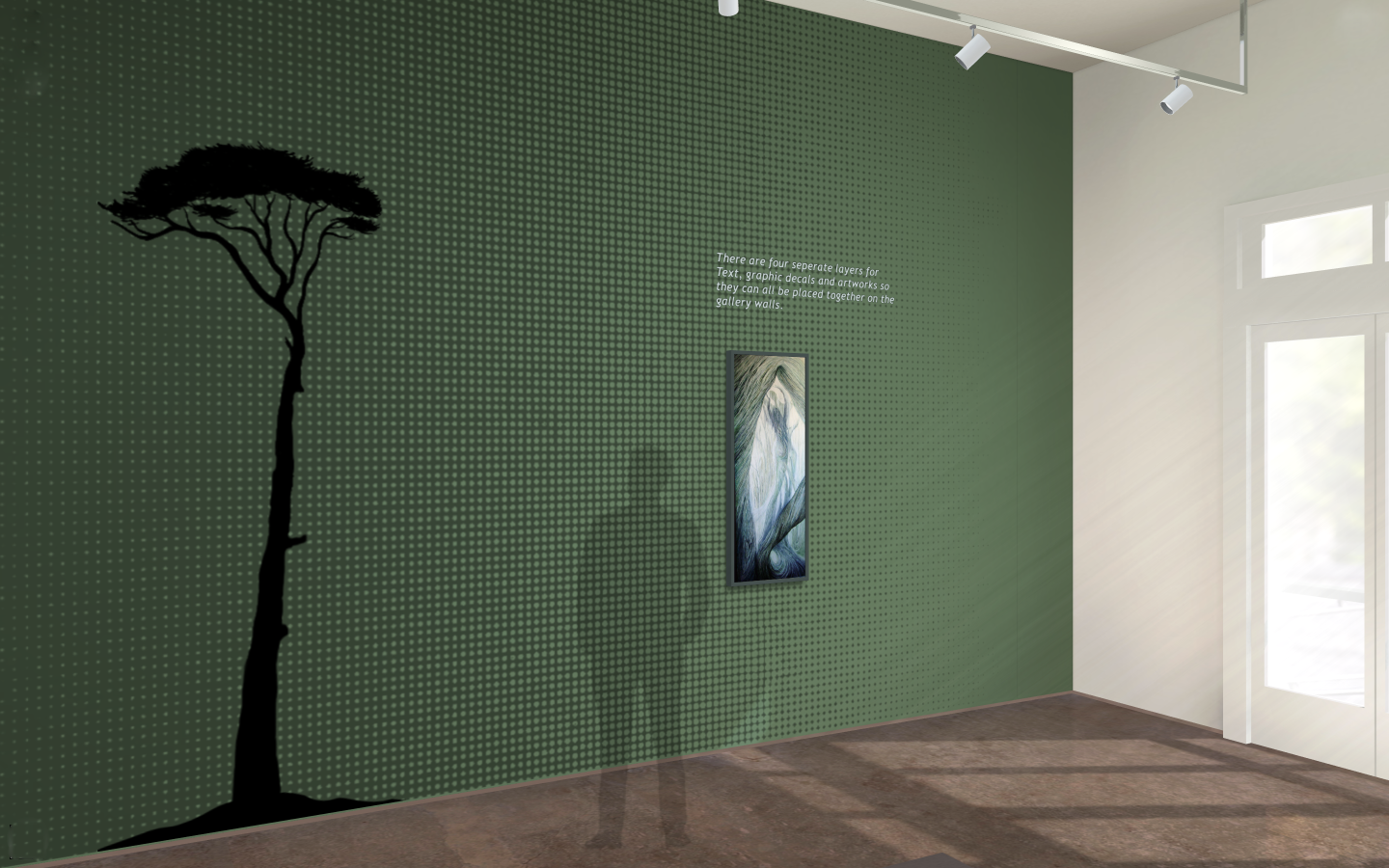 Mural-sized Artwork
Not every artwork is easily contained in a frame. Sometimes you want to feature artworks on a room-sized scale. If it's time to think BIG, you can fill an entire gallery wall with an image. It can have semi- transparent areas, which allow the wall to show through, or be a completely opaque image. Murals can now be displayed directly on any wall, as if they've actually been painted on the wall itself.
Creative curation
Our new tools provide an array of options. There are an enormous number of different effects and environmental customisations that can be achieved in your virtual 3D gallery. They enable curators to conceptualise, design and finely tune the presentation of all their exhibitions.
Each one can resonate with the artist's and curator's intent, and be truly unique.